RM Dashboard Strategies
To view strategies, go to Risk Management and then to the RM Dashboard -> Strategies tab.
Strategies can be created in this tab. In addition, MTM Group can be moved from one Strategies to another in this tab.
Creating Strategies

To create a new strategy:
1. Click on

to create a new line.
2. In Book, select the book where the strategy will be created in.
3. In Strategy, enter the name of the strategy.
4. In Activity Type, select the activity type of the strategy. This is for information only.
5. In Status, select the status of the strategy.
6. In Activity Month, select an acitivty month if applicable. When an activity month is selected, the profit and loss of this strategy will be reported in this month instead of pricing month. This will also require addtional setup in reporting before the report will display correctly. Contact CoreTRM support for help.
7. Click

to confirm creation.
8. To edit strategy details after creation, Click

to edit.
To Move MTM Group from one Strategy to another Strategy
Each MTM Group can contained one or more transactions(contract).
To move a MTM Group from one strategy to another:
1. Search and select the strategy you wish to move the MTM Group from.

2. Go to Strategy MTM Group view/grid and select the MTM Group that needs to be move.

3. Press and hold the MTM Group from Step 2 and drag it to the destination MTM Group.

4. After you have move the MTM Group to the destination Strategy, it will display like below when you select the destination strategy.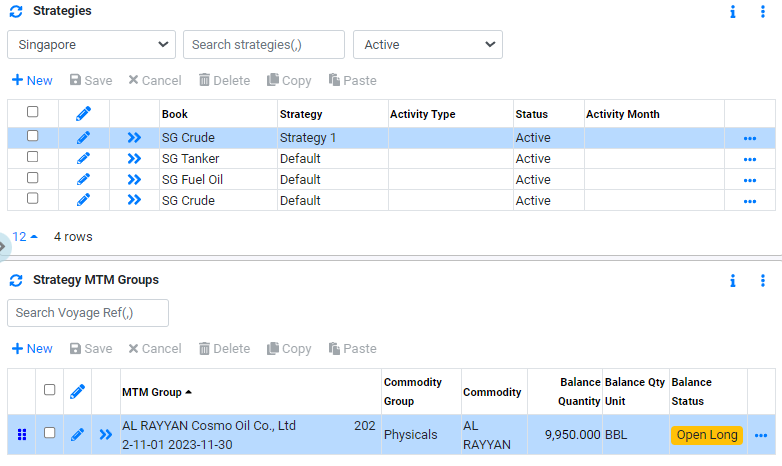 Risk Management : Strategies